2017 NFC Playoff Odds – The Case for the Minnesota Vikings
The Minnesota Vikings are on a quest to do something no other team in the history of the NFL has done, which is to host the Super Bowl on their home field. They are two steps away from it right now – the first step will be to get by the New Orleans Saints, who come to U.S. Bank Stadium for a Divisional Round game that begins at 4:40 PM ET. While Fox televises it, BetAnySports customers will have the opportunity to watch it and place wagers in real-time as they access the state-of-the-art software from Live Betting Ultra.
Saints vs Vikings Odds – 2017 NFC Playoff Betting Line:
In the NFC playoff odds that have been posted on this game by the people at BetAnySports, the Vikings are favored:
Minnesota Vikings -5
New Orleans Saints +5
Over 46.5 points -110
Under 46.5 points -110

Join BetAnySports NOW for Falcons vs Saints Odds online! Enter PROMO CODE BAS30 to get your 30% SIGNUP BONUS up to $1000!
The Vikings have stayed hot for quite a while, winning eleven of their last twelve games, and because of the injury to Green Bay's Aaron Rodgers, it made it all that much easier for them to win the NFC North with a 13-3 record. And after covering ten of their last eleven games, they are a sizzling 12-4 against the points.
What makes all of this amazing is that they have done this with skill performers who were not even there when they started this season against these Saints with a 29-19 victory. In that one, rookie Dalvin Cook ran for 122 yards. And Sam Bradford, who had set the one-season accuracy record in 2016, completed 27 of 32 passes. But Cook was later lost for the season and Bradford only played that one game.
Because Teddy Bridgewater was still not able to return to action, journeyman Case Keenum was thrust into the starting spot, and he has really responded, with a nice 22-7 ratio of touchdowns to interceptions and a 67.6% completion rate. So he's been a hero this season, and Bridgewater has returned, as a backup. In Cook's place, Latavius Murray and Jerick McKinnon helped re-establish Minnesota's ground game. The Vikes were dead last in rushing last year; they were 7th in the league in rushing yards in 2017.
But if the Vikings are indeed going to stay home for the Super Bowl, it's going to be on the strength of the defense, and of course when Mike Zimmer came on board as head coach this is exactly where he wanted it to be. Minnesota has surrendered fewer yards and points than any other team in the NFL, and they have just been brutal on opposing teams in third-down situations, allowing them to convert only 25.2% of the time. And this is going to be the challenge for the Saints, who are going to try to use their star tandem of backs (Alvin Kamara, Mark Ingram) to create favorable down-and-distance situations.
This is a defensive unit that is more than solid all the way around, and it will be interesting to see how well cornerback Xavier Rhodes does dealing with New Orleans' Michael Thomas. You can't really evaluate this rematch on what happened months ago. But defense is said to be critical to winning championships, and the Vikings definitely have plenty of it.
2017 NFC Playoff Odds – The Case for the New Orleans Saints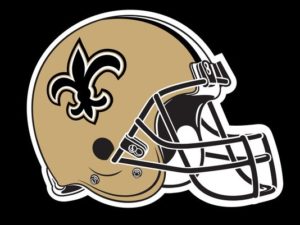 You can't really say that nobody saw what was coming with the New Orleans Saints, because after all, they did make a ballsy move in the off-season to diversify their offensive attack. But the people they did it with aren't the same as were expected. This is a much more dangerous team than the one that faced the Minnesota Vikings in the season opener, and now the Saints will have a chance at some payback, and win a trip to the NFC title game at the same time, as they square off with the Vikes at 4:40 PM ET at U.S. Bank Stadium in Minneapolis. BetAnySports customers have the opportunity to place wagers even after the game has begun, as they utilize the facilities of Live Betting Ultra.
It's not that the Saints (12-5 SU, 8-9 ATS) never had a running game, but they have been looked upon in recent years as a rather one-dimensional offense. Drew Brees, of course, has put up numbers so big that this dimension has been prominent. Again, Brees is having a heck of a season, and indeed set a new one-season record for accuracy (72%). But he has been supported in a huge way with his ground game, which has produced records of its own.
Adrian Peterson came aboard this season, and the idea was that the multiple-time NFL rushing champion could team up with Mark Ingram to make this team much moe formidable on the ground. And if Peterson could come back big from last season's injury, there would be huge upside.
Well, as it turns out, Peterson never seemed to be in the right place, and Alvin Kamara, a rookie out of Tennessee, started getting a lot more activity. The bottom line is that Peterson got traded, and Kamara became a monster. And that is what makes this a different team going into Minneapolis the second time.
Kamara and Ingram have become the only 1-2 backfield combination ever to each have at least 1500 yards from scrimmage and ten touchdowns. And they have both been rewarded with a berth on the NFC Pro Bowl team. It always helps when you can utilize a number of weapons when you are facing the league's #1 defense, and the presence of these running backs enables a lot more play-action on the part of Brees, with his favorite target being Michael Thomas, who has caught more passes (194) in his first two seasons than any other receiver in the history of the NFL.
What the ground game also does is hold off opposing pass rushes, and Brees has been sacked only 20 times. This team finished the regular season fifth in the league in passing yards and fifth in rushing yards. THAT'S balance.
Brees comes up big in the playoffs too; last week he passed for 376 yards in the wild card round win over the Carolina Panthers. And he has a nice 26-7 ratio of TD's to interceptions in post-season play. He will not have guard Andres Peat blocking for him, but there is a very experienced backup in Senio Kelemete (over 600 snaps this season).
Defensively, this is an opportunistic side, with 20 interceptions, and that puts Minnesota's quarterback, joruneyman Case Keenum, on notice. Watch out for ball-hawking rookie Marshon Lattimore, who is the "next big thing" among NFL cornerbacks.
BetAnySports creates a tremendous experience, with a generous free play bonus; reduced juice, which gives you additional value as you test yourself against the playoff odds; and Live Betting Ultra, which enables real-time wagering that brings all kinds of excitement………… Open up your account with your Visa card, person-to-person transfers and the virtual currency of Bitcoin, which is fast and easy with their automated system, and NEVER incurs a transaction fee!
Click here to read our review of the BetAnySports online sportsbook.
By Charles Jay