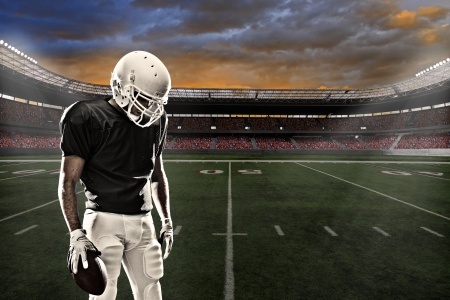 Well, the season isn't over for the Oakland Raiders, despite what some nay-sayers might have to offer. Derek Carr, who looked like he was on his way to serious consideration for the Most Valuable Player award, did suffer a broken fibula last Sunday as the team defeated the Indianapolis Colts, but they must soldier forward with Matt McGloin, the former Penn State quarterback, as they meet up with the Denver Broncos on Sunday at 4:25 PM ET at Sports Authority Field. CBS is going to televise the game on a regional basis, and VietBet customers will have the opportunity to place their wagers, even after the opening kickoff, when they take advantage of the state-of-the-art software available through Live Betting Ultra.
Oakland Raiders vs Denver Broncos – NFL Betting Line:
In the NFL odds upon which we will make our football betting picks at VietBet, the Broncos are slight favorite at home:
Denver Broncos -1.5
Oakland Raiders +1.5
Over 40.5 points -110
Under 40.5 points -110
Join Vietbet NOW to bet on the Oakland Raiders vs Denver Broncos online! Enter promo code VIET35 good for a 35% Welcome Bonus up to $1,000.

Oakland Raiders vs Denver Broncos – CJ's Take:
McGloin has only thrown four passes on the season, so he'll be working with the first-team offense in practice extensively for the first time. Carr made so many plays and has developed so quickly as a downfield passer that is almost inconceivable to imagine the Oakland offense without him, especially with the chemistry he has developed with wide receivers Michael Crabtree and Amari Cooper (headed to the Pro Bowl). But if they want a first-round bye in the playoffs, along with a shot at the #1 seed in the AFC (in the event New England loses), then they would be best-served by winning this one.
To this point, Oakland is 12-3 straight-up, with a 10-5 record against the points, and they lead the Kansas City Chiefs by a game in the AFC West. Denver is 8-7, both straight-up and against the number, and their faint playoff hopes were dashed last week when they fell flat in a 33-10 loss to the Chiefs. They have now dropped three straight games, scoring a total of 23 points.
In the last four games, Denver has gone 10-51 on third down. A lot of that stems from the fact that they can't get a real running game going, therefore they are in disadvantageous down-and-distance situations. Last week they only got 57 yards rushing against Kansas City, and Trevor Siemian, last year's seventh-round draft choice out of Northwestern, demonstrated once again that he is not the guy to take the responsibility of the offense solely on his shoulders, as he completed just 17 out of 43 passes. So this is currently a team without a lot of direction, and we assume this is going to be addressed sharply in the off-season.
Maybe one of the things will do is use rookie quarterback Paxton Lynch, who has had a couple of starts where he showed some promise but obviously made some rookie mistakes. Lynch has been sacked nine times, versus 83 attempts, but he was drafted in the first round, so it's obvious to VietBet patrons that the Broncos have made an investment in the future. Well, perhaps, with this team eliminated from the playoff chase, that future is NOW.
Denver will rely on its defense to give McGloin a hard time. And they are fully capable of doing that, with 40 sacks on the season. Von Miller is on his way to All-Pro status, as well as candidacy for defensive player of the year, with 13.5 sacks, but remember that the Raiders have an All-Pro candidate themselves in Khalil Mack, who has 11 sacks. With two inexperienced quarterbacks in the saddle in this game, it obviously changes the character of the matchup, but if Oakland can gain a first-round bye, it is the equivalent of winning a playoff game, so we expect that head coach Jack del Rio, who has done such a great job in such a short time, can get the best out of them, particularly because they run the football so well (124 yards per game, 4.5 yards per carry).
By Charles Jay
VietBet gives you more, including a free play bonus when you sign up, in addition to Live Betting Ultra, which keeps you in the action even after the opening kickoff…… Remember that you can make your deposits in a number of different ways, including your Visa card, person-to-person transfers and the virtual currency of Bitcoin, and when this outfit pays, they do it with warp speed!
Click here to read our review of the Vietbet online sportsbook.