Week 1 NFL East Showdown – Cowboys Go with Prescott Against Giants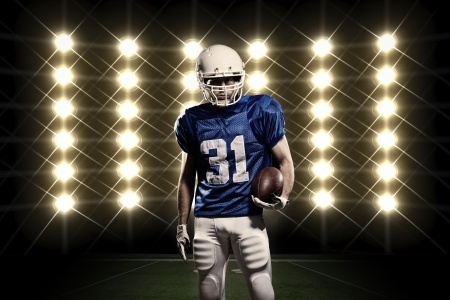 Well, what a lot of Dallas Cowboys fans feared has happened. It's an injury to quarterback Tony Romo, which leaves this team vulnerable at the quarterback position. So they will be going with a pre-season wonder who hopes to keep his momentum going as the regular season starts. But for Dak Prescott, a fourth-round draft choice out of Mississippi State, these are real defensive game plans devised by real defensive coordinators, and so it is likely that he'll experience something a little different as he goes up against the New York Giants in a Sunday NFL season opener that kicks off at 4:25 PM ET at AT&T Stadium in Arlington, TX.
As always, keep in mind that if you are a VietBet customer, you'll be able to place wagers on this game even after the opening kickoff when you make use of the state-of-the-art software available through Live Betting Ultra.
Giants vs Cowboys – Vietbet NFL BETTING LINE:
In the NFL betting odds posted on this game by the people at VietBet, the Cowboys are the slight favorite at home:
New York Giants +1
Dallas Cowboys -1
Over 46 points -110
Under 46 points -110

Join Vietbet NOW to bet on the Giants vs Cowboys! Enter promo code VIET35 good for a 35% Welcome Bonus up to $1,000.
Giants vs Cowboys – A Closer Look at the Cowboys:
Romo suffered a broken bone in his back during a pre-season game, and he could be gone for up to 10 weeks. In steps Prescott, a dual threat who was once considered a prime Heisman Trophy contender. He certainly can create plays with his legs, but his arm was not considered to be very strong by NFL standards. He was incredibly accurate during the pre-season, getting Dallas fans excited as he played with both the first and second team. It was suspected that Dallas would try to sign a veteran quarterback as a backup, or as an emergency outlet, and the Cowboys indeed have, as they had inked Mark Sanchez to a deal.
The Dallas defense will be missing a couple of defensive ends in this game – Demarcus Lawrence and Randy Gregory are on suspension, and their middle linebacker, Rolando McClain, will be suspended for the first ten games. VietBet patrons know that Manning is fully capable of exploiting these weaknesses, and if Odell Beckham Jr. can get some support by a wide receiver to take the pressure off him, this can be a really awesome passing attack. But can Victor Cruz come back from injuries that have sidelined him for the better part of the last two seasons? And how good can second-round draft choice Sterling Shepard be?
Giants vs Cowboys – A Closer Look at the Giants:
The Giants finished two games ahead of the Cowboys in the standings last season, but they only had a 6-10 record. Their stock-in-trade was blowing leads late in games, and that was a result of having the worst defense in the NFL. So a major rebuilding process was undertaken, which resulted in some new impact players being added to the stop unit. And the new head coach is 39-year-old Ben McAdoo, who had tutored Eli Manning the last couple of years on the West Coast offense and now has a tremendous rapport with the two-time Super Bowl MVP.
The Giants went out and spent some money in the off-season, acquiring Olivier Vernon, who played at a high level for the Miami Dolphins at the defensive end position, and defensive tackle Damon Harrison, known as "Snacks," who while playing with the New York Jets was known as one of the better run-stuffers in the league. The secondary was also a project, as the Giants went out and acquired Janoris Jenkins and drafted Eli Apple at the cornerback position. And we will have to see whether Jason Pierre-Paul, who played last year hampered by the loss of some fingers in a Fourth of July fireworks accident, can come back with some authority. If he can, this can look like a whole new defense, because he is usually able to get after the passer.
Giants vs Cowboys – Takeaway:
One of the things the Giants have to prove they can do is move the football on the ground. And they did not make any earth shattering acquisitions in this area, preferring to stick with Rashad Jennings and have him complemented by Shane Vereen. The Cowboys, meanwhile, drafted Ezekiel Elliott in the first round, and he will likely be the tailback that handles much of the load, especially as Dallas head coach Jason Garrett does not want opposing pass rushes to unload on Prescott.
As part of the Charles Jay "Bet the Board" Challenge, we've got some faith in the Giants' defense, so will go with them on the road against the raw rookie.
VietBet has a lot of extras for you take advantage of as you move ahead with your NFL betting activities. Reduced juice wagering will really help you get some value, and there are lots of thrills to be had with Live Betting Ultra…… Remember that you can make deposit using your Visa card, a person-to-person transfer or the virtual currency of Bitcoin, and the payouts are as fast as anybody in the industry!
By Charles Jay
Join Vietbet NOW to bet on the Giants vs Cowboys! Enter promo code VIET35 good for a 35% Welcome Bonus up to $1,000.
Click here to read our review of the Vietbet online sportsbook.